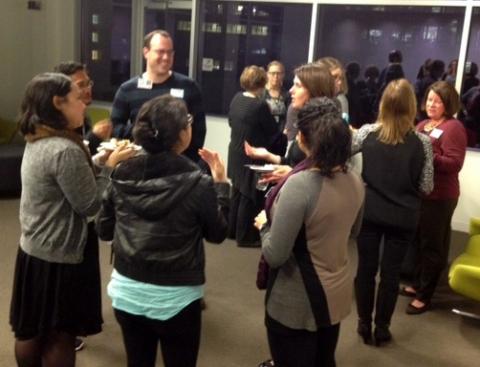 Students and faculty from the MEPN, AGNP, AGCNS, PMHNP, and PhD programs all gathered for the Fall/Winter Networking evening on January 28, 2015.  Nancy Dudley, RN, 2014-16 Patricia G. Archbold Scholar, relayed her experience at the recent Robert Wood Johnson Foundation health policy conference and Caitlin Hildebrand, AGNP, about her experience with the Master of Science in Healthcare Administration and Interprofessional Leadership (MS-HAIL) program. Both spoke about the importance of the Hartford CGNE network to their overall experience. The diversity of attendees across programs demonstrates the school-wide enthusiasm for gerontology.
For more on Nancy Dudley's experience, click HERE. 
For more on Caitlin Hildebrand's experience, click HERE.