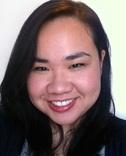 Nhat Bui is in her first year as Adult-Gerontology Nurse Practitioner student and received a Hartford UCSF CGNE Scholarship.
Why did you decide to work in Adult Gerontology?
Three years ago, my grandmother passed away in Vietnam in the most tragic way -  by not receiving the care she deserved because she lived in a country with low health care standards. I immigrated to America when I was a child, and growing up I heard stories of the elderly being physically and chemically restrained or dying of malnourishment. Not being able to care for my own grandparents, I want to make a difference in improving the quality of care for older adults. 
What experiences have you had so far?
In the MEPN and masters program, I have cared for those with multiple chronic conditions, physical and mental illnesses and other psychosocial factors. I am currently involved in several volunteer clinical experiences. At the Berkeley Multi-Agency Services Center (MASC) and Men's Homeless Shelter, for example, I coordinate quarterly health clinics for blood pressure and HIV and HCV testing for Berkeley's homeless population. During my public health rotation there as a MEPN student, I remember going to the Berkeley Department of Public Health's Director of Nursing to arrange housing and services for a homeless elderly woman who lived near the BART station. She had mild cognitive impairment, was unable to walk, was carried around in a baby stroller and had been evicted from the park by the local police. Her friends brought her to MASC for a blood pressure reading because she had hypertension but had no access to her medications even though she had Medicare. We were able to provide her with a wheelchair and facilitated confirmed that she would be placed into stable housing for her. This experience was one of the first times I witnessed firsthand the power of nurses advocating and bringing about real change for older adults who have complex needs. While this is on an individual level, I learned the importance of care coordination and having larger systems in place, both at the local and state level, to better care for the adult and geriatric population. 
Also, I am currently a Research Assistant (RA) working with Dr. Caroline Stephens, who is an Assistant Professor in the Department of Community Health Systems and HCGNE Associate Director.  As an RA, I have helped collect survey data and manage a database for a national survey on graduate geropsychiatric nursing education. On another project, I have helped in analyzing focus group interviews of diverse community stakeholders. Evolving from that work, I am now assisting in a Palliative Care Quality Initiative in several local nursing homes by engaging in primary data collection through qualitative interviews and chart abstractions. I also helped to develop and create a study database, building further upon my initial experiences. Through working with Dr. Stephens, I have gained a greater perspective on the connections between research and how specifically nursing research could influence health policy and patient care on a systems level. I see the whole picture, from the patient, to the bedside nurse, to the providers, to the administrators and the healthcare system itself. Continuing to learn from my experience in research, I know that in my future practice as an APRN , I will be more knowledgeable and understanding of all the moving parts in order to provide care to a single individual, as well as consider system-level changes to impact population health for this vulnerable population. 
What is your goal for the future?
My gerontological nursing goal is to provide comprehensive primary care to the aging population and maintain their continuity of care as they encounter different healthcare providers and services. I want to emphasize falls prevention education, increase awareness around geropsychiatric services and initiate conversations around end-of-life and palliative care. I envision myself as an AGNP working in under-represented communities, specifically in local clinics to assist homeless and low-income older adults. Through building partnerships and coordinating with community-based clinics and resources, I will eliminate barriers to access to care. 
Why did you choose UCSF?
I chose the UCSF School of Nursing because it is well known for educating and preparing nurses to be agents of change in promoting and improving health for all populations in the local communities. I was first involved with UCSF as a volunteer on the Falls and Safety Team where this nurse-led project showed me a both different side of nursing and taught me the beginning lessons of how to assess and evaluate patient care. I knew from then that UCSF would provide me with the best nursing education, the resources and opportunities to help me in achieving my goal of becoming a nurse practitioner and ultimately a leader in my field. 
How does it feel to be involved in the Center?
I am truly honored and proud to say that I am involved with the Hartford Center and all of its achievements. I am very grateful to have received this scholarship and now becoming a member of the Student Advisory Committee (SAC); it is a great opportunity to be more involved in the Hartford Center events and to meet great leaders in geriatrics and gerontological nursing.  I hope that I can contribute to the Center and continue its great success. 
Nhat is now a member of the Student Advisory Committee (SAC), which advises the Hartford Center about the types of programs, offerings, and activities that are of interest to the students.