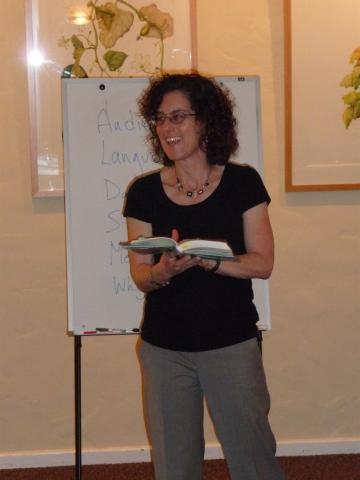 Advocating for Improved Care of Older Adults: How to Write for Change
On June 5, 2013 The Hartford Center had the pleasure of hosting Dr. Louise Aronson, UCSF Associate Professor in the UCSF Division of Medicine and author of the new, award winning book "History of the Present Illness," which takes readers into the lives of patients and doctors in the neighborhoods, hospitals and nursing homes of San Francisco. 
Participants joined in mingling and catching up with friends (old and new), and joined Dr. Aronson in a lively interactive workshop and group discussion around the emerging field of Public Medical Communication (PMC).  
Using a few examples from popular media (blogs, newspapers, OpEds, perspectives articles), Dr. Aronson shared with the group  how to tailor a message to both target audience and media type to advocate for older adults, through writing, speaking, blogging, tweeting and more.
For more information on Public Medical Communication or about Dr. Aronson's new book, visit http://louisearonson.com/ 
Hartford Alumni return to lead a career and leadership development panel presentation 

Nursing students, faculty and alumni in gerontology came together on March 13, 2013  for an evening of networking, food and panel discussion. Dr. Monika Eckfield, recent UCSF graduate and John A. Hartford Predoctoral Scholar facilitated a panel of our Hartford alumni, including Cristina Flores, PhD, RN, Nancy Oliva PhD, MHA, MPA, RN, Robert Pope, PhD, RN, MSN, GNP and Annelie Nilslson, RN, MSN, CNS.  The panel discussion focused on career advice and guidance from the panel with a variety of career experience, including research, teaching and community practice join together for a panel discussion.