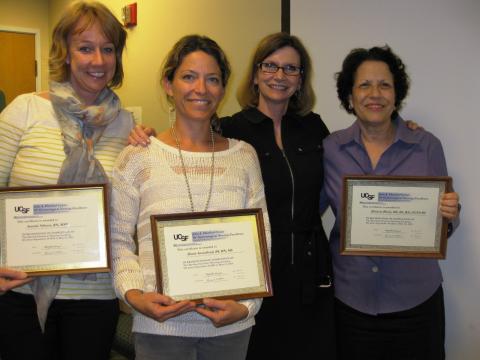 The Hartford Center is pleased to announce the 2012-13 Hartford Academy Graduates, pictured here (from left) Annelie Nilsson, RN, MSN, Clinical Nurse Specialist, SF General Hospital, Hattie Grundland, RN, MS, NP,  Assistant Clinical Professor, UCSF Dept. of Physiological Nursing, Lynda Mackin, RN, PhD, ANP, Course Co-Director  and Roberta Block, MS, BS, RN, GCNS‐BC, Assistant Professor, Samuel Merritt University, School of Nursing.
The Hartford Academy is offered to UCSF and Bay Area nursing faculty and preceptors who participate in the UCSF NorCal Geriatric Education Center Interprofessional Faculty Development Program. Nursing faculty are provided with guidance and mentoring to develop and grow as leaders in teaching, research, and practice in geriatric nursing. Scholars participate in a series of 8 full day sessions with faculty from a variety of backgrounds and disciplines including Dentistry, Medicine, Occupational Therapy, Pharmacy, Physical Therapy, Psychology, and Social Work as a part of the Faculty Development Program. The program offers a dynamic, interactive curriculum taught by over 60 faculty experts that includes clinical content, education skills, and strategies for leading change. 
Additionally, as part of the program, scholars complete an education or practice improvement project, prepare and present a novel and innovative mini teaching presentation using new teaching techniques, receive individual mentoring and career guidance by core faculty, and complete self-study readings and web-based modules tailored to individual interests. Academy scholars are provided with opportunities to attend and present at events offered by the Hartford Center, in an effort to build their network and practice teaching skills.
Hattie Grundland, Assistant Clinical Professor in the UCSF Department of Community Health Systems shared her experience, "The Interprofessional Faculty Development course has been immensely important to my development as clinical nursing faculty at UCSF.  The course married the primary themes; care of the older adult patient and interprofessional collaborative practice brilliantly by putting faculty learners into teams (nurses, doctors, physical therapists, pharmacists, etc.) so we could apply essential geriatric content interprofessionally over the 9 months of the course."