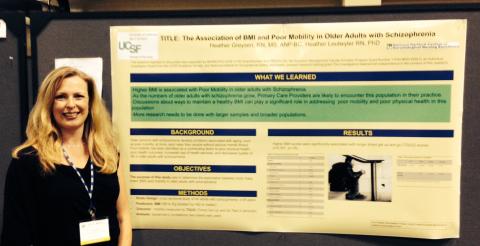 UCSF Hartford Doctoral student Heather Greysen presented her work on "The Association of BMI and Poor Mobility in Older Adults with Schizophrenia" at the American Geriatrics Society (AGS) in Orlando, Florida, May 16, 2014. 
The AGS Annual Meeting is the premier forum for the latest information on clinical geriatrics, research on aging, and innovative models of care delivery. The meeting addresses the professional and educational needs of geriatrics professionals from all disciplines through state-of-the-art educational sessions and research presentations about emerging clinical issues, current research in geriatrics, education, health  policy, and delivery of geriatric health care.
Below is information about Heather's presentation. 
Authors: Greysen, H.1., Leutwyler, H.1
1. School of Nursing, University of California San Francisco
Title: The Association of BMI and Poor Mobility in Older Adults with Schizophrenia
Background: The growing numbers of older adults with serious mental health illnesses is expected to reach 15 million by the year 2030. Schizophrenia is the number one diagnosis among older people with severe mental health problems. Data suggest that people with schizophrenia have poor physical health. Poor mobility has been identified as a contributing factor to poor physical health, poor health outcomes, increased use of health services, and decreased quality of life in older adults with schizophrenia. Data also suggests that this population receives inadequate medical screening and prevention services to assess their acute and chronic medical problems. If outpatient PCPs had more information about specific mobility risk factors they could target health promotion efforts and play a significant role in addressing the problem of poor physical health in this population.
Methods: In this cross-sectional study, 45 older adults (>55) with schizophrenia. Participants were assessed on BMI and mobility (Timed Get Up and Go test). Spearman's correlation (two-tailed) was used to test the following hypothesis: Higher BMI is associated with poorer mobility.   
Results: Higher BMI scores were significantly associated with longer timed get up and go (TGUG) scores (r=0.357, p<.05).  
Conclusion: Our data suggest that BMI is associated with mobility in a sample of older patients with schizophrenia. Clinicians may be able to assist in improving the mobility of this population by discussing health promotion strategies for reducing BMI, such as weight loss and physical activity programs. Physical activity programs should be comprised of gentle interventions that get this population up and moving, such as guided yoga. Yoga is a gentle physical activity that promotes strength, flexibility and positive mental health. More research needs to be done with larger sample sizes, with a focus on determining appropriate physical activity programs for the unique needs of older adults with schizophrenia.