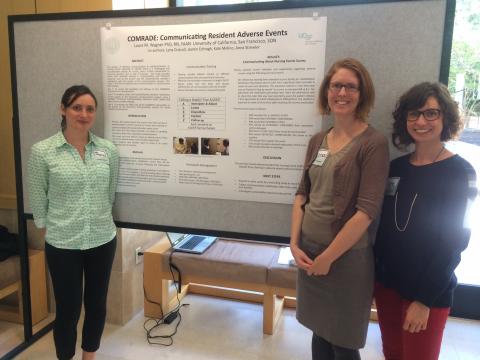 Jasmin Eshragh (Oncology CNS graduate), Lena Driscoll (GCNS graduate) and Kate Melino (Adult Gero Psych Mental Health NP graduate) presented their work on "COMRADE: Communicating Resident Adverse Events" at the recent Stanford Nursing Research Symposium, June 2, 2014. 
The theme for this years Nursing Research Symposium (5th annual) was "Mission Zero: Eliminating Preventable Harm."  The symposium provides an opportunity to share research, evidence-based practice, and quality improvement projects focused on eliminating preventable harm to patients. The keynote speaker was Linda H. Aiken, PhD, RN, FAAN, Director of Health Outcomes and Policy Research, speaking on "Impact of Nursing on Patient Outcomes." 
Below is information about Jasmin, Lena and Kate's presentation, co-authored with UCSF Hartford Center Associate Director, Dr. Laura Wagner.
Title: COMRADE: Communicating Resident Adverse Events 
BACKGROUND: Communication of disclosures and adverse events is an emerging issue in patient safety research in the nursing home (NH). Each year, at least 8 million events and errors occur across the 16,000 NH's in the U.S. These events lead to substantial morbidity and mortality, consume considerable staff time in care giving, increase health care costs, reduce satisfaction of the care provided, and result in high rates of litigation against NH's. Licensed nurses are often the primary contact to inform residents and family members when there is a change in the resident's condition. Nurses surveyed in NH settings feel that they lack training in this communication process that frequently feels incomplete, challenging and uncomfortable. 
AIM: The purpose of this quasi-experimental study is to test the efficacy of an intervention aimed at improving the process by which nurses disclose adverse events to NH residents and family members.
METHODS: Participants will be nurses and resident/family members from three San Francisco Bay-area NH's within the same corporation. The COMmunicating Resident ADverse Events (COMRADE) intervention is a 4-hour workshop that will include an opportunity for nurses to learn an effective process for adverse event communication, view sample video vignettes, and practice and receive feedback from peers. To assess the feasibility and effectiveness of COMRADE, nurse participants will complete the Communicating About Nursing Errors/Events (CANE) survey immediately pre- and post-intervention. Preceding and following the intervention for a period of 3 months, nurses and residents/family members will complete the validated "Disclosure Communication Behaviours Scale" to compare nurses' and resident/family members' satisfaction of the quality of the disclosure communication process. Descriptive statistics will be used to describe both surveys' response patterns in quasi-experimental pre-post research design. Based on these results, the summary statistics will be used to estimate the effect of the COMRADE intervention on the quality of the disclosure communication process for future sample size estimation.
RESULTS: The primary outcome of this research is to compare the quality of nurses' communication of events to resident/family members each time events occur. Study results are pending implementation of the COMRADE intervention. 
CONCLUSION: This study will provide nurses with intensive training in disclosure communication and will measure outcomes such as nursing home resident/family members' satisfaction with the quality of the communication process. This is the first study in the NH setting aimed at improving the communication process of adverse events. The pilot data will be used to inform the design of a longitudinal multi-site randomized trial to test the effectiveness of the COMRADE intervention.