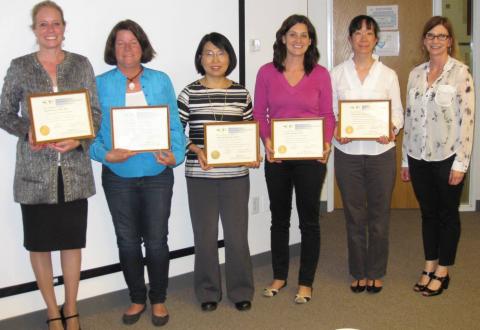 The Hartford Center is pleased to announce the 2013-14 Hartford Academy Graduates, pictured here (from left) Miranda Kramer, MSN, ADN, Nurse Practitioner, Stanford Medical Center, UCSF School of Nursing Doctoral Candidate;  Nancy Dudley, BSN, MSN, MA, Nursing Health Policy Doctoral Candidate, UCSF School of Nursing, Department of Social and Behavioral Sciences; Maria Cho, PhD, Assistant Professor, California State University, East Bay, Department of Nursing and Health Science; Liz Gatewood, RN, FNP-C, Nurse Practitioner, San Francisco Dept. of Public Health, Medical Respite; Karen Kwok, FNP-BC, MPH, Family Nurse Practitioner San Francisco & San Mateo County Public Health Clinics, and Lynda Mackin, RN, PhD, ANP, Course Co-Director  .
The Hartford Academy is offered to UCSF and Bay Area nursing faculty and preceptors who participate in the UCSF NorCal Geriatric Education Center Interprofessional Faculty Development Program. Nursing faculty are provided with guidance and mentoring to develop and grow as leaders in teaching, research, and practice in geriatric nursing. Scholars participate in a series of 8 full day sessions with faculty from a variety of backgrounds and disciplines including Dentistry, Medicine, Occupational Therapy, Pharmacy, Physical Therapy, Psychology, and Social Work as a part of the Faculty Development Program. The program offers a dynamic, interactive curriculum taught by over 60 faculty experts that includes clinical content, education skills, and strategies for leading change.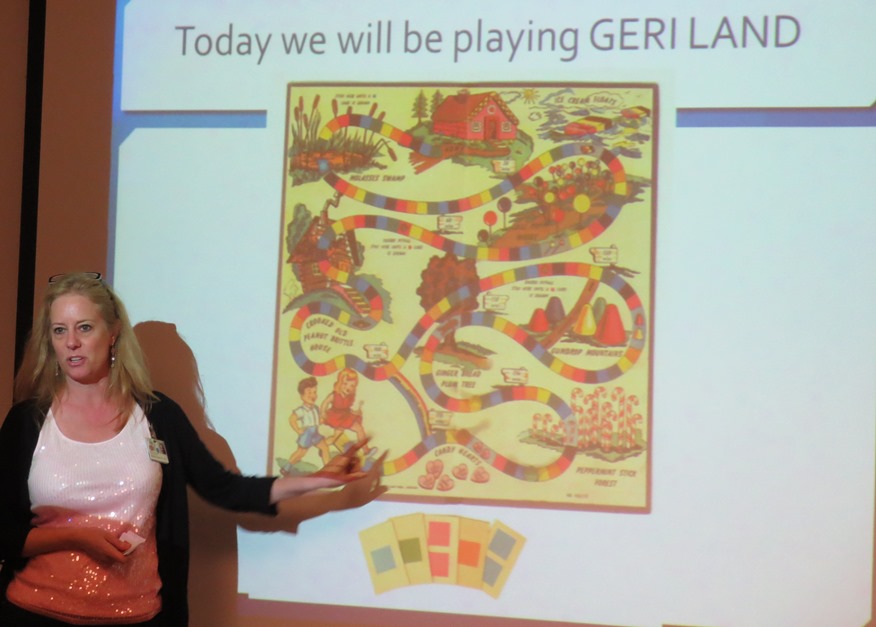 (Miranda Kramer presenting her mini-teach assignment using a creative teaching technique)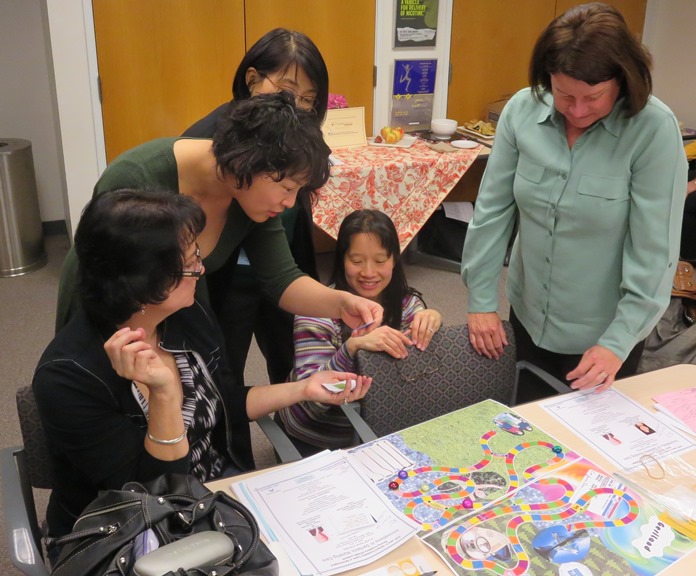 (Interprofessional teams work together to engage in Miranda's "Geriland" activity; the team pictured here includes a Physical Therapist, Pharmacist, Physician and Nurse; learners work in 4 different interprofessional teams throughout the course) 
Additionally, as part of the program, scholars complete an education or practice improvement project, prepare and present a novel and innovative mini teaching presentation using new teaching techniques, receive individual mentoring and career guidance by core faculty, and complete self-study readings and web-based modules tailored to individual interests. Academy scholars are provided with opportunities to attend and present at events offered by the Hartford Center, in an effort to build their network and practice teaching skills.
Graduating Nursing Scholars shared their experience:
"It was an incredible experience -  the mentoring we received and the power of the interprofessional collaboration was, and will continue to be a source of strength to provide quality education, and care for older adults." 
"This was an amazing opportunity to learn, share, and grow together in improving geriatric care..."
"This course has added a lot of depth to my practice and I feel much more prepared to help my geriatric patients."